May 25, 2023
Intermediate Tactical Rifle
Intermediate Tactical Rifle
2 hours- Course Cost $99
Students will be taught how to safely handle firearms, and how the various types of rifles function. Students will receive classroom and live fire instruction on the fundamentals of marksmanship, increasing both accuracy and ability to drive the gun during fire. Basic Carbine 2 focuses on the use and movement with a carbine rifle.
Objectives:
Safety brief and safe gun handling procedures and techniques
Load, unload
Reloads, bolt lock and tactical
Stoppages and malfunctions
Ready positions
Unsupported shooting positions
Supported shooting positions
Note: The rate of progression of the training depends on the number of students in the class and the overall skill levels of the students. Having students safely fire their rifles and show improvement in accuracy, speed and confidence is the goal of the class.
GEAR REQUIREMENTS:
Serviceable and zeroed Carbine (25 yard zero preferably) and tools necessary to maintain it
4 magazines or the ability to have 20-30 rounds per training iteration
Magazine pouches (chest rig, or body armor will work) 1 belt mounted mag pouch is preferable
Sling
Comfortable clothing suitable for standing long periods of time. Open toed shoes or low-cut clothing are not acceptable for training.
Hearing and Eye protection (wrap around eye protection recommended)
Hat
Ammunition, 250 rounds
RENTAL OPTIONS:
Guns and gear are available for use during the class.
If students need a firearm, the rental is included in the class cost, but ammunition must be purchased for the firearm at The Range LLC. (Note: depending on ammunition availability, students may bring their own factory-loaded ammunition for use in The Range LLC rental guns. NO HANDLOADED AMMUNITION ALLOWED IN RENTAL GUNS!)
*Registering for a class constitutes an agreement to attend the class in which you enroll. After your class enrollment tuition payments are not refundable, but those funds may be applied to a future class with at least one week's advanced notification. Emergencies are handled on a case-by-case basis. Call with questions 509-571-1449 between 10a.m. and 7p.m. Tuesday-Sunday or email training@therangellc.com
6-8pm
Thanks for your interest! Unfortunately, this class is full and enrollment is now closed
---
.Ladies Action Shooting League.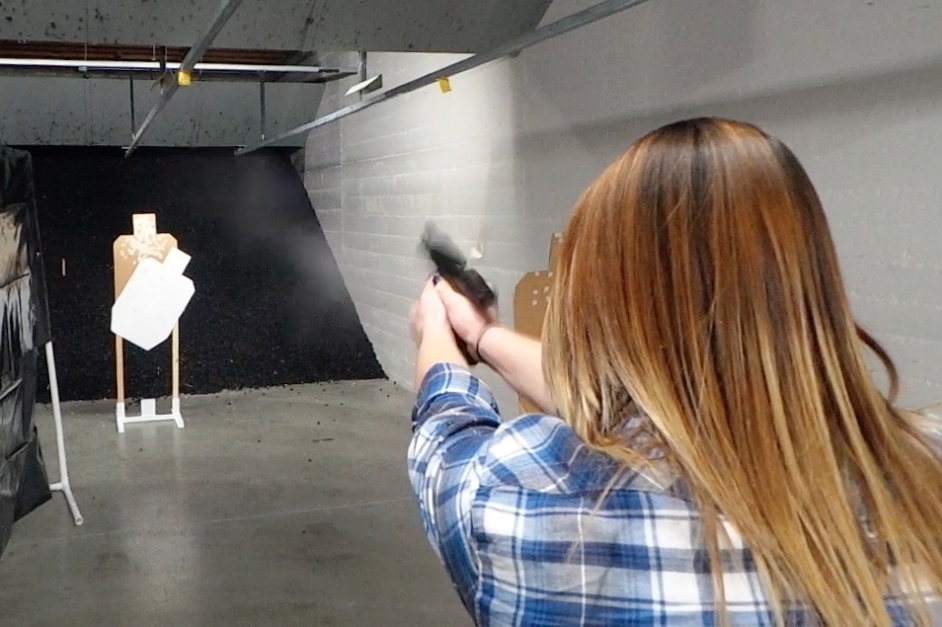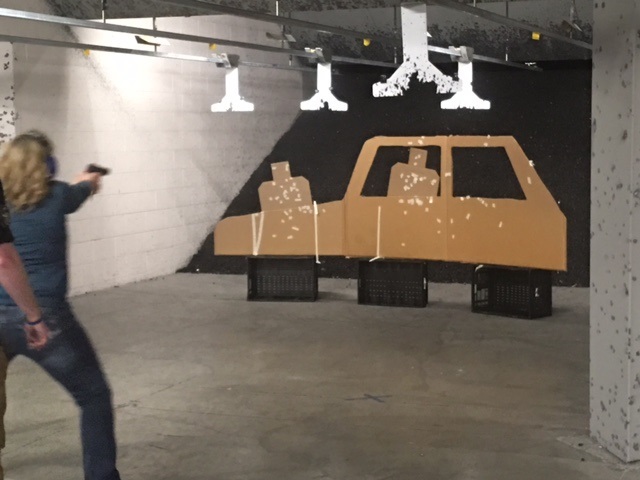 ---
---
Ladies Action Shooting League- your chance to get past the static firing line, and experience moving and shooting in a dynamic environment designed to push your shooting skills! Designed for shooters of all levels and abilities, shooters who have shot competitively and shooters who have never done more than stand and shoot.
This is not a serious event- come with your girl friends and see who does the best! We try not to take ourselves too seriously, so if you just want to have fun, come out to Ladies Action.
Cost and Info:
- Cost: $10
- Round Count: Varies between 20-50 rounds needed for pistol
- Membership discounts: Basic Members $5, Unlimited Members FREE!
- Eye protection and ear protection required
- Holster recommended but not required
**** IMPORTANT DISCLOSURE ****
In order to participate in Action Shooting, you must be present for the Mandatory Safety Briefing. The Safety Briefing begins promptly at 5:30pm. Please arrive early in order to allow yourself time to be geared up, signed in, and ready to go at 5:30pm.
If you are a first time shooter at The Range, or your waiver has expired, please come early enough to allow time to watch the required safety video and complete the required waiver. We suggest 20 minutes.
If you are unable to attend the Safety Briefing in its entirety, you will not be allowed to participate but you are welcome to stay and observe.
Be sure to pre-register for Action Shooting on our website at www.therangellc.com in order to reserve your spot. Space is limited and preference will be given to those who are pre-registered. This is a popular event and spots fill up fast. If you have not pre-registered, we cannot guarantee you will be able to participate.
6-7:30pm
Thanks for your interest! Unfortunately, this class is full and enrollment is now closed
---
View More Events